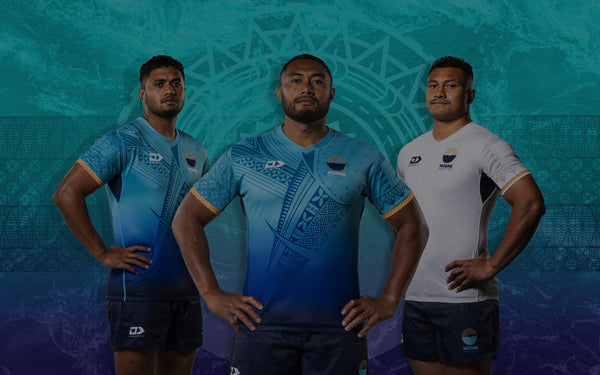 Moana Pasifika are Wearing the Ocean on Their Sleeves
Article written by Sela Jane Hopgood from The Spinoff. Read the full article here
The new Super Rugby team is taking its name seriously – especially when it comes to uniforms.
When you see Moana Pasifika play at Mount Smart Stadium in Tāmaki Makaurau it looks like a sea of blue on the field. The team's home jerseys are boldly coloured and adorned with various tatau, masi, ngatu, hiapo and tapa patterns of the Pacific region, the merging of the motifs said to represent the unity of the team's many cultures. The jersey also features a traditional Polynesian sail, which references the history of Pacific people as masters of the oceans – something the team aims to channel to become "navigators in this new era of rugby", as its website says.
And taking the lead as navigators in the newly revamped Super Rugby competition is exactly what Moana Pasifika are doing with their jerseys. For their first season in Super Rugby Pacific, Moana Pasifika have been wearing jerseys made from Ecotek fabric, which is made from recycled plastic bottles. The team, through Dynasty Sport's pro teamwear programme, is on track to repurpose in excess of 12 million plastic bottles this year – at the time of writing, they'd reached over three million.)
Dynasty Sport says the production of Ecotek fabrics uses 62% less energy and 99% less water than other fabrics, producing 35% less waste with upwards of 20% less CO2 emitted into the atmosphere.
Dynasty is one of the first apparel companies in Aotearoa to provide recycled material across its ranges for both players and fans. It was a three-year journey to get recycled fabrics ready for launch in spring 2021, but now teams at both professional and grassroots club and school levels are using Ecotek as their default. "That's the exciting point of difference for us," says Dynasty Sport's general manager of marketing Conor Beggs. "There are apparel companies who have used recycled fabric in certain aspects of their product offering, but never at the scale we're doing." 
Director and co-founder Tyler Rakich says the development took a long time because they wanted to make sure they were producing the best-possible-quality product. "We wanted to make sure that it was fit for purpose and had all the same properties as a jersey not made with recycled materials, so we've added moisture wicking, anti-pilling, odour management, and they won't feel any different as the fabric is similar weight and thickness to a traditional jersey," Rakich explains. 
Moana Pasifika's Solomone Kata in the team's Ecotek jersey, and a Moana Pasifika's supporter's hoodie (Photo: Getty Images)
When they heard about a bid for a Moana Pasifika team to join the expansion of Super Rugby Pacific, Dynasty Sport approached the team to help create a jersey that speaks to all Pacific Island nations. "We were both a good fit," Beggs says of the partnership. When they signed with the Pacific team, Rakich adds, they were committed to doing whatever they could to reduce the pollution found in their collective environment. "The Pacific ocean is Moana Pasifika's highway, their playground, and their source of kai – together we're helping them protect it and creating awareness of how each of us can make a conscious effort to clean our ocean," he says.
Dynasty Sport's aim is to encourage businesses to make sustainable choices when it comes to apparel. "We're very aware that in this industry, there's a lot of fast fashion and a lack of focus on sustainability," Beggs says. "And because we're much bigger than an average household in terms of what we're putting out there, we need to be making smarter choices around being proactive in that sustainability space." 
But it's not just about making sustainable choices. A recent report by the Ellen MacArthur Foundation found that there's more than 150 million tonnes of plastics in the oceans, including the Pacific ocean, and warned that if the trend continues, plastics will outweigh fish by 2050. The ocean makes up 98% of the region the Pacific Islands call home, and that region comprises over 10% of the world's ocean area, according to the Secretariat of the Pacific Regional Environment Programme or SPREP.
Article written by Sela Jane Hopgood from The Spinoff. Read the full article here