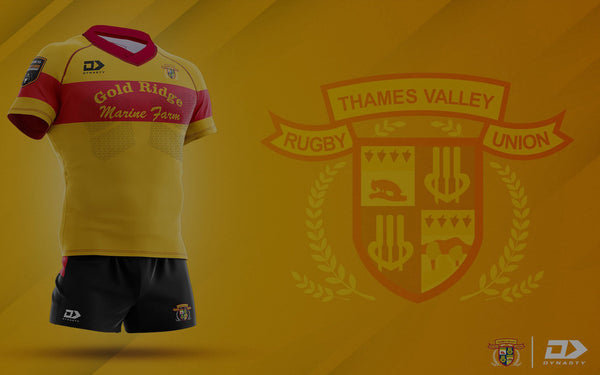 Dynasty Sport & Thames Valley RFU, nurturing rugby in the Valley
FOR ALMOST 100 YEARS, the Thames Valley Rugby Union have represented and nurtured rugby across New Zealand's North Island.
In 2021, the historic North Island Union joins forces with New Zealand owned and operated sports apparel brand Dynasty Sport, with the rapidly expanding international business providing high quality on and off-field kit to players and referees across all levels of Thames Valley Rugby.
Dynasty Sport Director Tyler Rakich delighted to be working with the Union.
"The team at Dynasty Sport are absolutely wrapped to have partnered with the Thames Valley Rugby Union for the next four years and look forward to assisting the Swamp Foxes and the unions associated teams to achieve their on-field goals through the provision of cutting edge on field garments." Rakich said
"As a proud New Zealand owned and operated business, working with the country's local unions and nurturing sport across the country is a genuine priority for the entire Dynasty Sport team, and to be working with a union steeped in history like the Thames Valley Rugby Union is a genuinely exciting opportunity"
Thames Valley General Manager Brett Barnham saying the four-year partnership will see all of the region's teams including the Swamp Foxes, Vixens, TVRFU Representative teams, Sevens and Youth rugby sides proudly wearing the Dynasty Sport logo and playing in the brands cutting edge apparel from 2021.
"At TVRFU, we are very excited about the new partnership with Dynasty, I believe it's an amazing opportunity for both parties for 2021 and beyond" Brett Barnham said
"Dynasty are a tried, trusted, and proven brand and we feel privileged to have their support and sponsorship as the new TVRFU clothing sponsor and supplier as of Jan 2021."
The unions referees will also fall under the new Dynasty Sport partnership, while an exciting new range of supporter apparel is currently in production and will be available ahead of the new season.
Dynasty Sport continues to expand its operational footprint across New Zealand and Australia, partnering with a host of national and international teams.
The Dynasty Sport team pride themselves on providing exemplary levels of service and the highest quality on and off field garments to sports teams here in New Zealand and across Australasia. Dynasty's foundation has been built off more than two hundred years of experience across key areas of the team wear and apparel industry, boasting an administrative team widely recognised as being best in class across the competitive apparel and team wear space.
Dynasty Sport provides apparel to the following teams and associations:
Thames Valley RFU
Canterbury Rugby Union
Tasman Mako
Northland Rugby
Wanganui Rugby
Hamilton Wanderers FC
Auckland City FC
New Zealand Cricket (domestic) &
Super Smash

New Zealand Softball
New Zealand Bowls

Joseph Parker
New Zealand Softball • New Zealand Bowls
Joseph Parker
Wellington Saints NBL • Southern Steel Netball • Invictus Games
NZ Army
Tonga International Rugby League Invitational
Queensland Rugby Union / Queensland Reds
Norths Rugby Union (Queensland) • Manly Sea Eagles
Cronulla Sharks
Gold Coast Titans